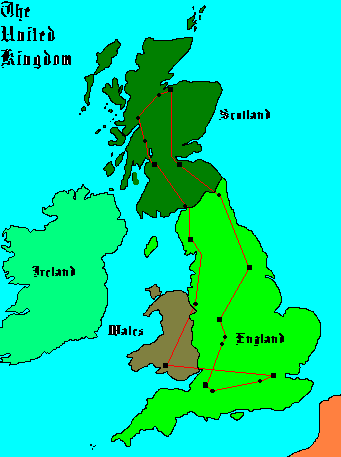 Hear ye, hear ye! Welcome to my quest and pilgrammage throughout ye olde Britannia with Contiki tours. Click on the "begin tour" box to begin this journey, or if thou wishes to just see one section click on the appropriate box below. Make sure you sign the guestbook, tell everyone about this site and e-mail me if thou findest any problems...be sure to click here for updates and site news...be sure also to check out the Contiki page at www.contiki.com :).
---


This many people have been here.
Webpage best viewed using Microsoft Internet Explorer. Author Benjamin Keith Horton.
Page last done battle with ... Saturday, September 30, 2000 09:16:27 PM
---
---
---

30.09.00 - Updates.
10.07.00 - See above - new sections, new photo's, rescanned photo's, text editing
07.07.00 - I finally have a scanner in my possession which puts out much higher quality scans, so ill be rescanning all photos so they bigger and have more detail. Also have some more new pics to put up, these should be done over the weekend...also keep an eye out for my US pictures page...
07.06.00 - Assignments are out of the way hip hip horray etc etc - so ill be doing stuff to the page now...first id like to point out a mistake I made, which a correspondant in Edinburgh (Yvonne) pointed out - what I thought (and was told) was the Scottish Parliament was in fact the Balmoral Hotel...I shall change this right now....over....
11.05.00 - Just a quick note to say im now in the Medieval and Renaissance Ring, Richard is sending photo's which I shall post up as well as a few that I left out last time.
09.05.00 - Well i'm added to the Stone Circle Webring - so make sure thou checkest it out, also I do realise other people/sites/books have aided me in this website and a links/bibliography page will be coming but at this stage University beckons and I have no time to do such...new photo's should be up hopefully soon...oh and trying to register with the "Medieval and Renaissance Webring"
06.05.00 - As you can see above, I am registering this site with The Stone Circle Webring, so make sure you check it out if you want further information on Stonehenge and The Salisbury Plains, as well as other stone circles...
25.04.00 - Errata: Pete has informed me that I can't enter his sacred hari chino cult if I don't mention the help he gave me in error testing this page, I was going to do this in the end notes and still will but for now its here...
23.04.00 - Okay i've been hard at work for days getting this site into a publishable order and it is finally up - okay I plan to do bits and pieces to add on this site, namely add some more photo's that I have and that I get in from others on tour. I also plan to add some more history to the area's which are lacking, and include my English Civil War assignment somewhere...but until then enjoy.