---
The day was drawing near to its end so it was off to the Roman city of Bath for a city tour and then to our night's stop at the nearby Limpley-Stoke. Bath is a small town, but its Roman heritage coupled with its architecture makes for a well worth-while place to see.
---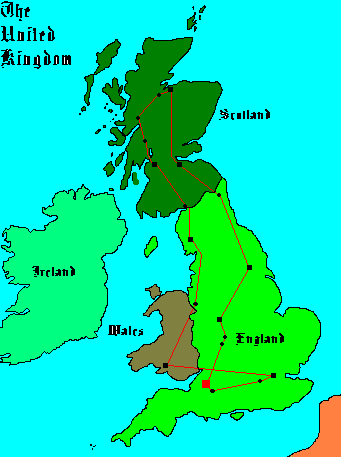 ---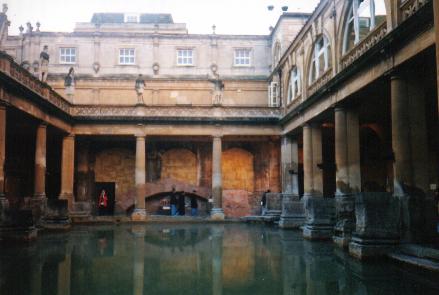 Roman Bathhouse, Bath, 13.01.00
The exploration of the city began with an audio tour of the Roman Bathhouse. The Bath's are largely in tact and are a part of the British World Heritage Sites. The baths are heated by natural springs to which tourists used to be able to swim in until a young child became ill as a result of swimming. There is also a museum here showing insight to Pagan-Roman days.
---
Roman Bathhouse (from top), with Abbey in background, Bath, 13.01.00
The top floor of the bathhouse gives a commanding view of many other sites in the city, this one being the Bath Abbey with Roman statues in the foreground.
---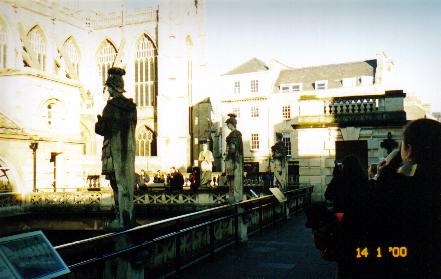 Roman Bathhouse (from top) with Abbey in background, Bath, 13.01.00
---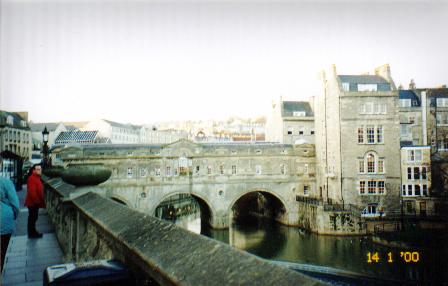 Covered Bridge, Bath, 13.01.00
When first driving into Bath, it would not seem as if you were going over the bridge in the picture as it is lined with shops and 'appears' to be just a normal road.
---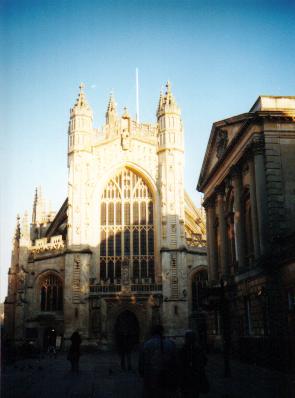 Bath Abbey, Bath, 13.01.00
Coming out of the Bathhouse is one of many amazing church's located throughout Britain being the Bath Abbey.
---
One of the many things the Romans introduced to Celtic Britain was the Bathhouse. Every Roman town had a bath house and the best example of one of these is in the town of Bath, located on the River Avon. The baths were usually situated on natural springs saving the problem of boiling the water. Originally the site was thought to have been sacred by the Celts but it was the Romans who took this one step further setting up the bathhouse and temple on the site. An accompanying Villa was also built around the bathhouse and temple.
When the Romans withdrew from Britain the Bathhouse and many of its relics were left to decay - though an integration between the Celts and the Romans (Romano-Celts) did manage to keep some of the ideas alive. It was until the dawn of the Georgian era that the town truly received a restoration - giving the town some of its unique arhcitecture still seen today.
As most of the historical sites go in England this is a huge tourist site mainly for the Bathhouse. The baths have been closed for swimming but you can still walk around its walls and go to the museum. It is also worth noting this is where the authoress Jane Austen spent many of her years.
---
On to Stratford-upon-Avon birthplace and resting place of William Shakespeare...
---
Please sign ze Guestbook mon ami's...
---
The Benjamina Fund of The Judean People's Front