---
Our night's stop had been shifted from that of Coventry to Birmingham, 'the capital of the Midlands'. Birmingham is where my mother's side of the family comes from, and I still have relatives there. Because we arrived by night there wasn't any chance to explore the city, sitewise, so I settled back for a night of getting rottingly drunk, the events of which effect the next day so I have written a bit of an account about it below...
---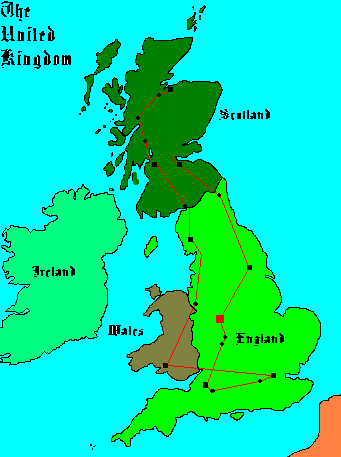 ---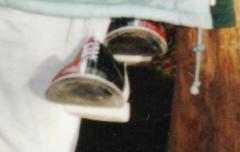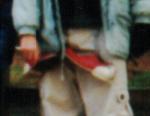 The Question of the Bowling Shoes
IT seems that on every tour I go on, there is some sort of punishment for those who do daft things, and it also seems that i'm always the first to get this punishment as was the case here. In this instance the punishment is to wear a pair of bowling shoes somewhere on the body all day, and as they didn't fit me, they had to dangle off my belt as seen in the pictures for the nest day and in the close-ups I have provided. So what did I do to deserve this...
People who have known me for quite some while will realise this is quite normal for me. I had spent quite a lot of money that day on various things, in the wake of going to Warwick Castle I also wanted to get excessively drunk - but money was a problem. So it was that I came up with the brilliant plan of getting drunk economically. This involved only eating breakfast, and then downing a pint of beer every twenty minutes for an hour and a half. This isn't much beer, but on an empty stomach it has the full hit of double that amount, so it worked out it only cost me about £12.00. After this I was very trashed, and then the nights events begun to unfold...these accounts were provided by fellow members of the tour the next day...
After trying to find a meal out of a plastic flower (one of those ultra-hard ones), which incidentally almost broke my jaw, I left Richard and whoever else I was drinking with (I can't remember!), and decided to have a bit of a strut up the clubstrip. After getting many weird looks from locals for my renditions of 'Stones songs, I managed to catch up to two bobbies on patrol and apparently went up to them saying in a very put on English accent, "...'ello, 'ello, 'ello, what's all this then?..." (A line used in many British comedies - namely Monty Python). Instead of being halted for my rude behaviour they actually engaged me in this immense conversation about the state of Australia these days. I had to leave them though because I needed a ride back with the bus, because of my lack of funds to catch a cab...
When on the bus, I thought it was time for a bit of kareoke, Ben-style. This involved, firstly scamming the microphone and then doing some renditions from Rocky Horror (together with full pelvic thrusts as Aaron told the group the next day) and then some Meat Loaf (together with me falling down a lot as Aaron told the group the next day). It was then back to the hotel, where a group of Italians commented on my over-excessive sideburns and talked about me in Italian a lot...which I didn't understand. Richard had also given me his key to give to David who was his roommate, I didn't realise this in my drunk state and went to pass out in my room. I did get up for some more party action in an hour or so, where I found David and got him the key. The rest of the night was a bit of a blur; and am keeping the remembered events to a non-web audience as I don't really wan't to recall them here...
Anyway that's why I got those damn shoes!
---
On to the fabled forest of Sherwood...
---
Please sign ze Guestbook mon ami's...
---
The Benjamina Fund of The Judean People's Front