---
Sadly, we had to leave the loch's and head to the city of Glasgow where really I was too stuffed to do anything...
---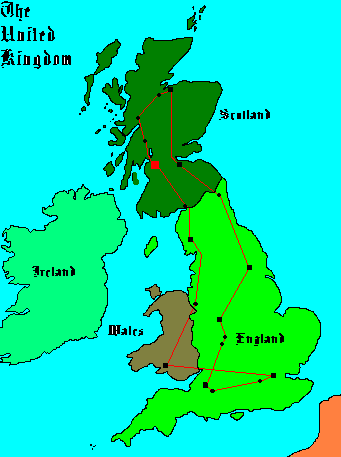 ---
Sorry I have no photo's of Glasgow, if you have any please send them in (to those on tour with me).
---
Evidence suggest that a fortified site preceeded Glasgow, but it did not fully develop until 550 AD, when St. Mungo developed a religious community there. In the year 1180 AD William I (The Conquerer), designated Glasgow a burgh of barony, and then was granted the right to hold an annual fair.
Since the industrial revolution, industry has been the backbone of Glasgow. Glasgow exports went all over the world in the 18th Century even to the America's and thus the city boomed. It is because of this however, that the city often is very smoggy and gray.
Glasgow continues with its industry, but unlike anywhere else we have been to - its tourism is not high. However, one remarkable God like figure did emerge from here - BILLY CONNOLY!!!! - one of my many heroes :D
---
Onto Gretna Green and the border of England...
---
Please sign ze Guestbook mon ami's...
---
The Benjamina Fund of The Judean People's Front