---
After encamping outside of York, the next day was to carry us over the border to Scotland, but first a detour into the Northumberland National Park to visit the Roman structure known only as "Hadrian's Wall".
---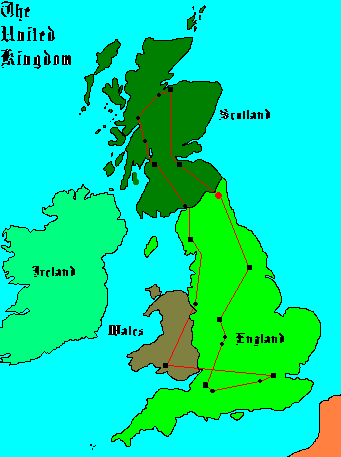 ---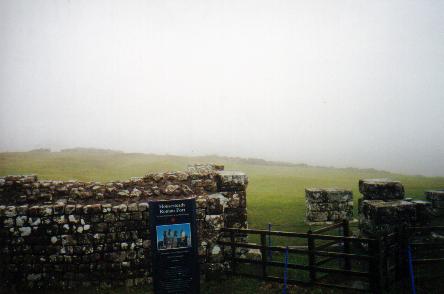 Roman Fort, Hadrian's Wall, 16.01.00
Hadrian's Wall consists of much more than a simple wall, in fact it is a network of forts and strongholds situated along the wall. In times of attack the garrisons stationed at these would be able to surround the enemy by riding out from two or three towers, not only this but each tower was in view of the next - making for an excellent communication system. This is the entrance to one of these forts, though all that remains are its foundations.
---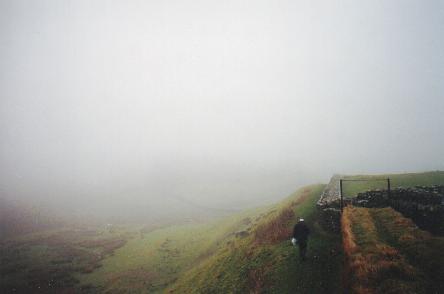 Hadrian's Wall, 16.01.00
A bit difficult to see, this shows how far the walls extend - as far as the eye can see.
---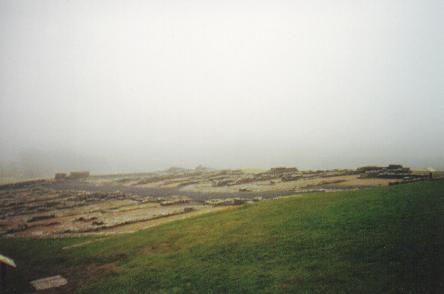 Remains of Roman Fort, 16.01.00 A.D.
I had to do a little bit of "jumping the wall" to see this Fort as it costed some ridiculous price to get it. Here is the foundations of the structures within the fort.
---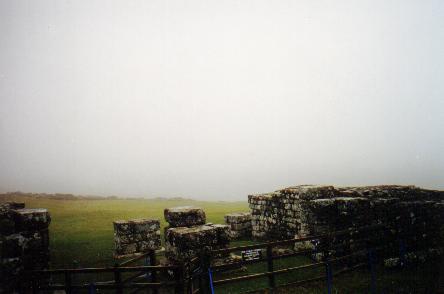 Hadrian's Wall with Fort, 16.01.00 A.D.
Here is a shot of the wall with the remains of the fort in the background.
---
The Wall was commisioned by the Roman Emporer Hadrian most likely around 122 AD. After this, within the next six years, the Romans built it to be 80 Roman miles long (117km/73mi). This was to stretch between Wallsend-on-Tyne to Bowness-on-Solway and basically created a physical border.
There has been a little speculation as to why it was built, the most common theory is that it was built to keep out the picts and the celts. However, some sources suggest it was built to mark Hadrian's empire as more of a glory piece. The first theory would have to be true, because of the forts built alongside the wall. Despite this though the wall was attacked very little, probably because the attackers didn't have the technology to cross it in the face of diciplined Roman garrisons.
When the Roman's left Britain, the wall fell into decline. Its stations became unmanned and soon those it was meant to keep out got through. Many of the stones used for this wall later turned up in farmyards. In other words, it merely became apart of the scenery rather than a fortification.
Little remains of the Roman forts and the wall itself. Well it does, but it is now the towering five metres that it used to be. It is another British Heritage Site and a tourism attraction to this day.
---
On to the border of England and Scotland...
---
Please sign ze Guestbook mon ami's...
---
The Benjamina Fund of The Judean People's Front