---
Oh ye take the high road, an ill take the low road, an ill be in Scotland before ye (from the poem Loch Lomond)...it was now off to Loch Lomond for a boat cruise on the placid lake...
---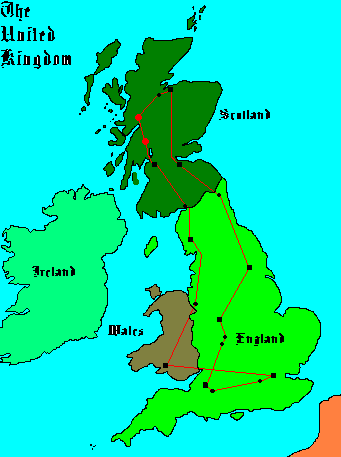 Fort William is the top red dot and Loch Lomond is the bottom red dot.
---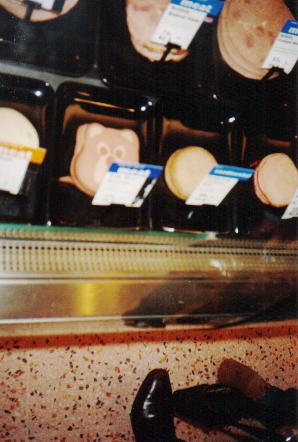 Safeway, Fort William, 19.01.00
I think the locals thought I was a little weird taking a picture of an item in a deli - but look at it - its soooo funkified!
---
Loch Lomond, 19.01.00
The Contiki tour on board the upper deck of the vessel.
---
Fortified Island, Loch Lomond, 19.01.00
Small islands dot this loch, and many have civilisation on them, this one in particular having a small hard to see fort...
---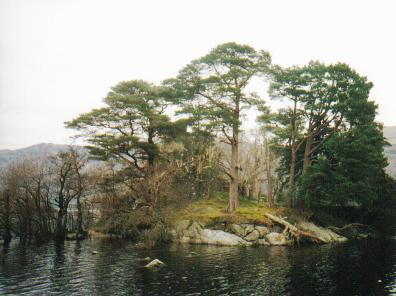 Fortified Island, Loch Lomond, 19.01.00
The fort can be seen a little better here.
---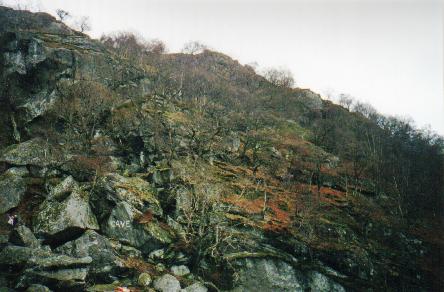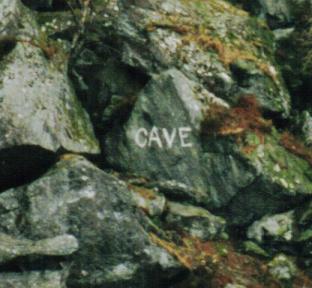 Rob Roy's Hideout, Loch Lomond, 19.01.00
Here are the hills and caves to where the notorious cattle thief Robert Roy MacGregor hid out whilst being hunted.
---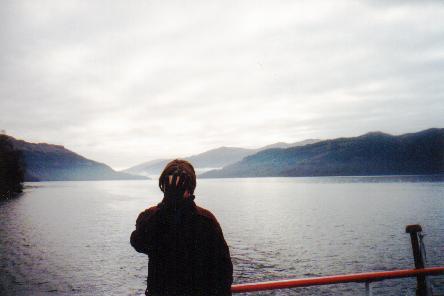 Loch Lomond, 19.01.00
This is Nina not wanting her photo taken.
---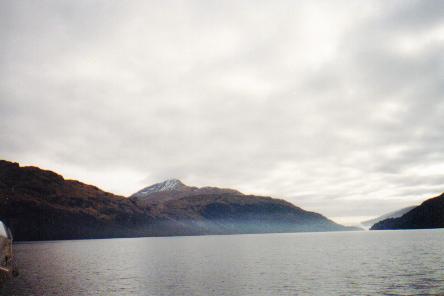 Loch Lomond, 19.01.00
Lomond's still waters and looming mountains are something you only see in books, and read about it fantasy novels...
---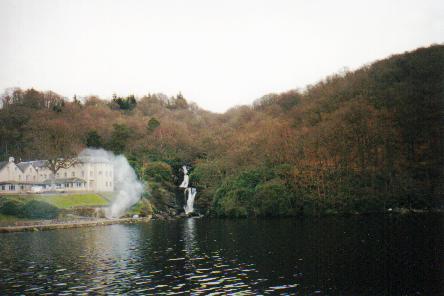 Nudist Colony, Loch Lomond, 19.01.00
No explanations necessary.
---
Lomond is the largest freshwater lake in all of the UK, it is 24 miles long, 5 miles wide at its widest point and some 600 feet deep at its deepest point. On the Loch are 38 islands, which some hold inhabitants, fortresses and one even holding a hotel. It is much written in song and verse - and for those intrested I will send them the poem called "Loch Lomond" - about two of Bonnie Prince Charlie's men who got left behind, one who would be set free the other executed - one taking the high road one taking the low road. The Loch also holds some 200 species of animals and over 25% of Britain's wild plants have been recorded here.
Perhaps one of the most famous people of all to have graced these waters, was Robert Roy MacGregor ("Rob Roy"). Often he is portrayed as a Scottish nationalist - however he was a cattle theif and it is because of this he was hunted down. However, there is evidence to suggest he did stick up for himself and his family and perhaps even Scotland...
---
Onto Glasgow...
---
Please sign ze Guestbook mon ami's...
---
The Benjamina Fund of The Judean People's Front