---
After our "Stag's Night" in Inverness, it was time to make a short journey to the most famous lake in the world - Loch Ness and find "Nessie" the fabled monster which lies within....
---
---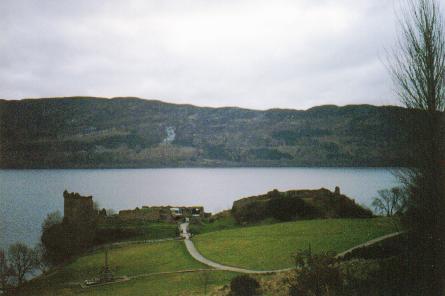 Urquhart Castle (with Loch Ness Monster in Background), Loch Ness, 19.01.00
As we did not go into the loch in any great detail, this is the most we were able to take a photo of. Urquhart Castle was a significant castle in its own right (see below), but is also supposed to be the home of none other than Nessie. The below picture shows more of the loch.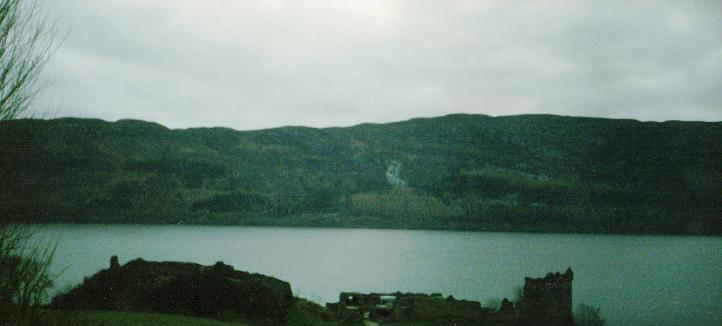 ---
The History of Loch Ness and Urquhart Castle
Origins
An earlier version of Urquhart Castle has existed since the Iron Age - as the area is on a strategic point. 1296 was to bring the castle proper built by Edward I (see Scotland page), who was to build a series of castles to quell the Scots. With Wallace at work in the south it was up to Andrew Murray to besiege this castle, he managed to capture it however it was to be put in English hands again. Edward attacked the castle, which would not give into the English and thus led Edward to recapture this castle and brutally murder the Scots inside. Later this castle was captured by Robert the Bruce.
Throughout the years, Urquhart Caslte changed hands many times. Its end came, however, when it was blown up to prevent its use by Jacobites and finally came to an end in a storm.
Loch Ness and Urquhart Castle are one of those landmarks of Scotland. Not only this but the recent movie Loch Ness used this castle all throughout in its sequences.
"Nessie"
The other well know feature of Loch Ness is the creature "Nessie". The first reported sightings believe or not have been recorded as early as 500 A.D. However, since the invention of the camera Nessie has really come to life. The creature is/was thought to be a remaining dinosaur after their extinction, at least that is the more popular theory. It is unknown whether this creature existed or still exists, but thanks to a few losers who made elaborate hoaxes, most of the world laughs at the truth of such a creature.
---
Onto Fort William, Ben Nevis and Loch Lomond...
---
Please sign ze Guestbook mon ami's...
---
The Benjamina Fund of The Judean People's Front